New in Construction
Version 23
Now there is the possibility to comment on projects. The BCF project allows you to create and store a set of notes inside a *.dwg file to organize joint work on an object.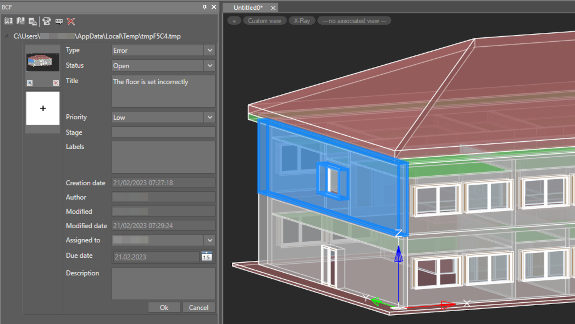 The Density has been added to the Library of Materials.
The bug due to which the nanoCAD crashed when importing an object into the database has been fixed.

The import of IFC object colors has been fixed: door opening direction and number of objects in all groups.

The errors in building the contour of the premises with a magnet have been fixed.

An incorrect display of the Room dialog has been fixed.

In the explication of premises, it became possible to set the separator.

The bug where, after double-clicking on a dwg file associated with the Construction / Mechanica module, a clean nanoCAD document was opened without a loaded module and this file, has been fixed.
Version 22
The properties of fastener parts have been worked out.
For old standards, the following properties have been added:
Thread direction
Thread tolerance field
Material
Strength class/group
Type/grade of steel
Coating
Coating thickness
For new standards, the following properties have been added:
Material
Strength class
Coating
Coating element
Coating thickness
Finishing of the coating
Coating method
Coating lubrication
Duration of trials
The hangup when adding templates to the Library of templates for elements of utilities network has been fixed.
The work of the report and the name of the wall templates if they are absent in the database of elements has been fixed.
The configuration error in settings of Construction axis and Separate axis dialogs have been corrected.
The wall thickness overlapping with the background when inserting a wall template with layers into a drawing has been fixed.
Version 21
Automatic specifications of materials for selected walls are implemented.
New report generation options are added to the interior composition list:
Areas of premises with the same cladding can now be summed or kept separate

Premise numbers and names can now be placed in separate columns