To use network license you should install the License Server. It can be installed on any computer in your local network, but it is better to install it on a special server, because it should be operated 24/7 to provide licenses over network.


Network licensing consists of two steps:
License Server setup (LicServSetup.exe)
nanoCAD product setup (RegWizard.exe)
The first step:
Download the License Server from the web-site:
https://nanocad.com/products/plus/download/
()for nanoCAD Plus) or directly from our FTP:
ftp://ftp.nanocad.com/ls/LicServSetupEng-94.zip
.
Then run LicServSetup.exe and requested the license file online or by email: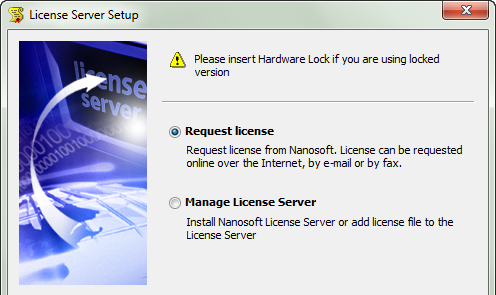 Then make sure that the server service is running: run
LicServSetup.exe
and press Next.
The second step:
Now you need to connect nanoCAD to this server.
Please run the
Registration Wizard
with the shortcut or directly "c:\\Program Files (x86)\\Nanosoft\nanoCAD x.x\\RegWizard.exe" and choose "Connect to License Server" option, then specify the name of your server.
That is it, now nanoCAD product should take the license from the License Server. Repeat Step 2 on each workstation with the nanoCAD product installed.